0872 Numbers
Free to connect and up to 8p per minute rebate
Earn up to 8p per minute on your inbound calls
0872 numbers work in the same way as all other 087 numbers. They are free to connect and you can earn a rebate on your inbound calls, depending on your call level.
An 0872 number is perfect for businesses looking to monetise an existing high call volume telephone line.
Each number is supplied with a free call management package worth £60 per annum, featuring a welcome message, call whisper and online call statistics.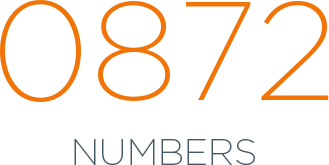 Earn a rebate on every minute of inbound calls
| Mins per month | Level of rebate |
| --- | --- |
| 500 – 2,500 | 4p per minute |
| 2,500 – 10,000 | 5p per minute |
| 10,000 – 25,000 | 6p per minute |
| 25,000 – 50,000 | 7p per minute |
| 50,000 – 75,000 | 7.5p per minute |
| 75,000 + | 8p per minute |
Free Call Management

Welcome Message
Voicemail To Email

Call Statistics

Fax-to-Email

Account Manager

Upgradable Features
Connect your 0872 number
To connect a number please contact our team online or call 0344 504 4000.
Ofcom rules regarding use of 0872 numbers
In July 2015 Ofcom announced changes to the way calls to 0872 numbers are charged. These new regulations make the charges more transparent to the public. All charges are split into two parts, both of which need to be clearly displayed wherever you advertise your number.
Service charge – This is set by the number supplier. Most 0872 numbers we supply have a service charge of 13p per minute.
Access charge – The is set by the callers network provider, so this cost will vary.
Where-ever you advertise an 0872 number supplied by us must display the following text:
"Calls to this number cost 13p per minute plus your networks access charge".
If you have any questions regarding the use of 087 numbers please don't hesitate to contact us.