Call Queue
Never miss a call while busy with another customer enquiry
While you're on the phone to one customer, what happens to another customer who calls at the same time?
Using a call queue will keep callers on the line until you are free to take the call. This instantly removes the risk of them calling a competitor due to you being unavailable.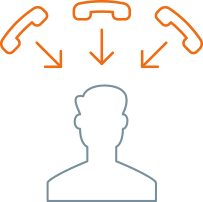 INCREASE CUSTOMER ENQUIRIES
Ensure you always take a call rather than responding to voicemails

CUSTOMERS NEVER HEAR AN ENGAGED TONE
Your customer is never cut off without either you answering or leaving a voicemail

IMPROVE PROFESSIONALISM
Potential customers will be greeted with a professional answering system

ADVERTISE YOUR SERVICES WHILE CUSTOMERS ON HOLD
Record a personalised message for your customers to listen to while waiting

REMOVE THE NEED FOR A RECEPTIONIST
Calls can be automatically held without the need for staff to divert the calls

MULTIPLE PEOPLE CAN BE LINKED TO THE QUEUE
Multiple people within your organisation can be linked to the queue to take calls
What is a Call Queue?
If you receive multiple inbound calls simultaneously you can hold calls in a queue and take each call as your line becomes available. When a customer calls they will be notified you are busy and will take their call as soon as possible.
Depending on how you wish to set it up, they could hear some recorded music and after a certain time be prompted to leave a voicemail.